Free Downloads
Ready to start a 1-month health challenge? Want to download our Product Guide recipes? Check out all of our free Well Your World downloads and take control of your health today!

YouTube Videos & Recipes
We have hundreds of free YouTube videos that provide a wealth of knowledge about healthy plant-based living. From #plantrants where I talk about health to recipe videos showing just how simple it can be to eat right!

YouTube Live Hangouts
Join us and chat on one of our LIVE YouTube hangouts where Reebs and Dillon will answer all of your questions about your health-promoting diet and lifestyle. This is a great place to build community and support!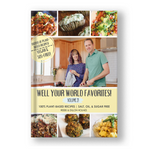 My Amazon Store
I get lots of questions about the different kitchen gear and specialty items I use in my YouTube videos, so head over to my Amazon gear page to check it out. I've also got a list with my favorite books about diet and lifestyle.
✕